ALT.SMOKERS PIPES
CLUB PIPE
---
2008 FRANCO BELGE
2 STAR PRISTINE

ONE STAR MOCHA

This year "The Belge" was chosen as the ASP POY. A fairly long and sleek pipe with an oval shank that gently rises to the confluence of the distinct bowl and shank junction.. The pipe is very lite and weight and has a decent bowl capacity and would normally be my Size 4 .
This edition is named for former Pitttsburgh Steeler great Franco Harris .
| | |
| --- | --- |
| HEIGHT | 1.8" |
| LENGTH | 6.25" |
| WIDTH | 1.425" |
| WEIGHT | 1.2 OZ |
| INNER BOWL | .75 |
| | |
| --- | --- |
| FINISH | PRICE |
| STRAIGHT GRAIN | $50 FOR EACH STAR |
| SUNRISE SMOOTH | 200 |
| MOCHA SMOOTH | 175 |
| TANBLAST | 165 |
| BLAST | 150 |
| NAKED CORAL | 135 |
| CORAL | 125 |
PICTURES OF THE OTHER FINISHES WILL BE POSTED AS THEY ARE COMPETED. ALL WILL BE THE SAME SHAPE AS THE PICTURE ABOVE; THEY CAN BE ORDERED NOW FROM INSIDE THE WEB STORE.
A SHORT HISTORY: by Paul Tatum
A.S.P. , or Alt.Smokers.Pipes , is know as " the most civil news group on the internet" . And rightly so ! A.S.P. is a fun place to meet people , learn about pipes and tobaccos and generally shoot the breeze with pipe smokers around the globe in a cyber setting that is very similar to the local tobacconist's shop .
One A.S.P. regular , Bill Burney , was killing time this past Columbus Day weekend , being unable to attend the C.O.R.P.S. show that was happening in Richmond at the time , and created for us a wonderful logo for A.S.P. This logo has been printed on numerous T-shirts , coffee mugs and other assorted materials for the enjoyment of the A.S.P. members . Not long after the show Bill and Carl Knighten (another A.S.P. regular) got their heads together and concluded that an A.S.P. tamper might be fun , so they contacted Tatums Workshop to see what could be. Below are the results .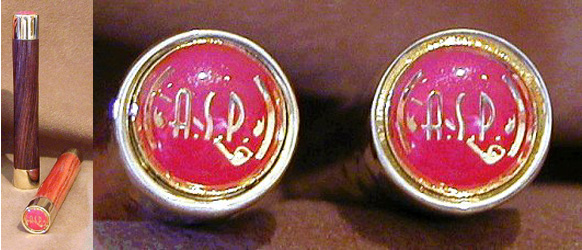 The Logos are fashioned after Bills original , having the letters A.S.P. in the forefront ,bracketed by tobacco leaves and with a clay church warden in the background . Bills original burgundy is used , and the script is done in gold . The entire logo is capped with a tough acrylic resin dome for aesthetics and durability .
When Paul finished his successful run of tampers he contacted me about doing a club pipe with the remaining logos. I thought this to be a good idea and sent an e mail to all the pipe makers who contribute on the ASP news group. Many wanted to participate. Those who did sent in a shape for the membership to vote on. In a vote fraught with scandal and fraud and recounts, worthy of a national election..... A shape was chosen for the first ASP Club Pipe, designed by Peter Matzhold. I guess it might be best described as a very elegant Apple-Prince.
---
2001 ASP CLUB PIPE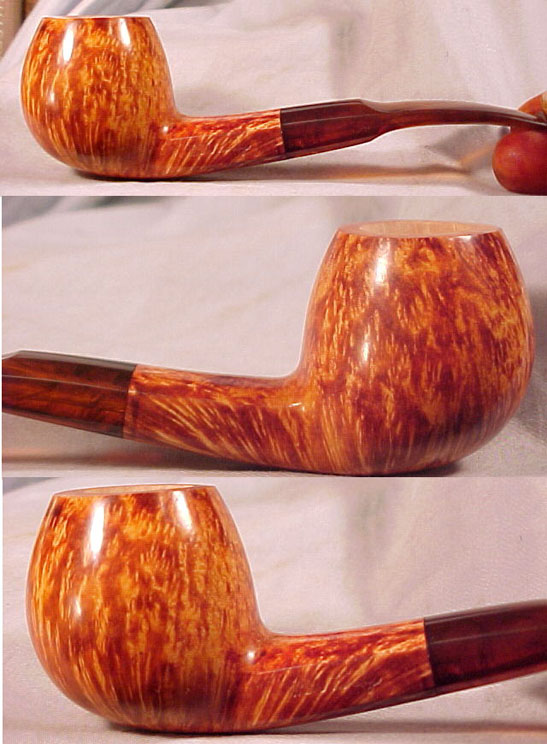 2005 VOLCANO

2006 AUTHOR
Here s my first one which will probably be graded a 4 star. I can t imagine getting one better than this. This shape will be available in Dark Coral, Blast and Smooth and Smooth Straight Grain..

| | |
| --- | --- |
| FINISH | PRICE |
| STRAIGHT GRAIN | TBD |
| SUNRISE SMOOTH | 175 |
| MOCHA SMOOTH | 165 |
| BLAST | 145 |
| CORAL | 140 |
DIMENSIONS
| | |
| --- | --- |
| HEIGHT | 1.6" |
| LENGTH | 5.5" |
| WIDTH | 1.9" |
| WEIGHT | 2 OZ |
| INNER BOWL | .75 |
2007 POKER