Departure of a Friend
Sometime during the second week of June,1998, my good friend Col. Mike Davis is being reassigned to a high level post in Korea. Before leaving he will be promoted to full colonel after serving a stint at the prestigious war college in Carlise, Pa.
I met Mike thru e mail correspondence in the Alt. Smokers Pipes newsgroup. One thing led to another and his family came up for a visit to the pipe shop last summer. I demonstrated my pipe making techniques and fixed one of his broken pipes. He purchased a couple of my pipes while here. I was taken by his quiet but intelligent and perceptive manner and I guess he liked my pies and a friendship was born. Mike came with me to every pipe show I attended there after and made numerous visits to my house. Our wives and kids became friends also.
I introduced Mike to some of my other pipe smoking buddies , John Hayes and Paul Boniquisti. They two appreceiated Mike s special qualities and became good friends also. We had some pretty wild weekend get togethers after pipe shows at various homes!
Mike has developed his own collecting interests as he s immersed himself in the pipe world. He s ammassed considerable knowledge of the craft through research, chatting on #pipes and attending shows.He s been a huge help to me and a great friend to all of us who have had the good fortune to encounter him.He s develped his own web page : PipeStem's Pipe Place for those of you who are interested in meeting him. He will keep his e mail account while in Korea so we can all keep in touch.
The Silver Linning in this is that he should be back in two years. If the army is foolish enough not to make him a general someday he will be out in a few years after that. Mike made his first pipe a couple months ago. His competence also extends to pipe making as his first pipe came out great. So let the pipe world beware! The army's loss will be our gain.
Hearing that Paul Boniquisiti was coming to visit he asked if he could come up and say good bye to Paul. Paul and I get together a few times a year to work in the shop on different shapes and exchange ideas of what we ve learned in the interim. It s great for both of us and has led to our development as pipemakers.We decided to collaborate on a pipe for Mike.The shape, the nefarious hooksbill. A very difficult one to do correctly. It s certainly given me fits! Once Paul "volunteered" to do a handcut stem I was ageeable.
Paul picked the briar , sketched the outline and cut it out on the bandsaw. I lathed the the bowl and drilled the pipe. The drilling angle of the shank is what actually took us the longest to decide as this is the most critical aspect of the shape. But fortunately we did get it right after much disscusion.
Having the roughed out stem blank to work with that Paul had started I roughed out the bowl and shank. I turned the pipe over to Paul where he completed his volunteer work on the stem with a file and sandpaper. He also added with the file some nice edge work between the shank and bowl as well as giving the shank a nice edge which is hard to discern in the scan below but critical to the shape. I got to take a nice long break while he was doing this!. Sadly he had the nerve to grumble a bit about what he volunteered to do.
Later after the stem was done, I finished sanding the bowl and shank and ... uh ooh.There were some small flaws that needed to be carved over. Well the call went to Master Carver Paul. Very few pipe makers have as nice a carve as the Boniquisti carve. SO it made sense he do the carve on this special pipe, to me anyway....
Paul used my very dull nail tool which required lots of extra effort on his part. He said he s going to send me a new one when he gets back to his shop. After some sweating ( and more grumbling ) it was done. I did some final fine sandings. We stained the pipe and we left for dinner.
After a meal of sushi and habachi we were back in the shop. We both worked on the final buffings. As my American stamp runs perpendicular to the shank and his runs parallel we had an interesting time designing the bottom panel and figuring out where to put everything. But finally it was done!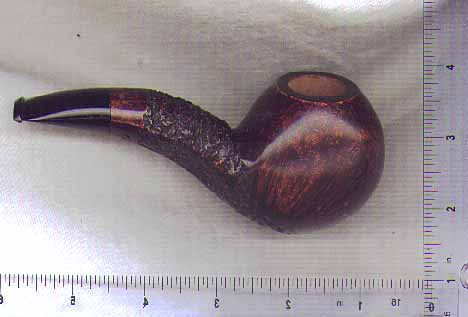 We presented it him and he was surprised and delighted! Paul and I really enjoyed working together and if we can ever decide who's name would come first we will do some more pipes together. (*grin*)