Montana Fishing 2003
---
As many of you know I moved to Montana last Fall. Since then I ve had the opportunity to begin fishing some of the rivers out West and to meet some new people to fish with. Most of my fishing has been concentrated on the Missourri river from Holter Dam to Cascade, a 30 mile stretch. It has taken a lot of time to explore by boat and on foot.. The fishing has been nothing short of fabulous!!
A recap: I think the finest fishing is in the Fall. All thru November I fished blue wing olives or small Pseudos into pods of large rainbows 18-20". It was almost like clock work for about a month. Dry fly fishing started about 1 and ended about 5 to rising fish. As the season got later the times compressed somewhat.... But there were always fish to tempt during this period. A mild Winter allowed nymph fishing until mid January primarily with pink scuds. It finally got too cold for me around then and while I went out every couple weeks if we had a day in the 40 s the fishing really had slowed down. During this time I mostly fished the upper river between Wolf Creek and Craig. Little did I know at the time there was very good fishing to be had down river .
Come Spring, I began to explore down river . There were some great blue winged olive hatches down towards the Dearborn river area. I think the water was warmer as the more popular upper river wasn t fishing at all. There are difficulties with Spring fishing in MT. The first is the Rainbow spawn which is the most dominant fish in the river. These guys are pretty much out to lunch in May and return to the main river in early June. The second is runoff which begins whenever the warm weather arrives.Water melting from local mountains and then later from the higher mountains in Yellowstone park , primarily from the Madison, Gallatin and Jefferson almost quadruple the flow coming into the Mo. While the dams along the Mo tend to alleviate some of the worst of it the flow the river rose so much as to make wading impossible for a 2-3 week period. This inspired me to get my 16' pontoon boat ready for the water. While I prefer wade fishing it turned out to be a blessing as it allowed me to see a lot of the water unaccessible by foot.
A stroke of luck came with the seasonal arrival of one Rad Davis, a native of the South who spends June thru Oct. guiding on the Mo. and tying flies for the Outfitter he guides for. I had met Rad , a pipe smoker , on line a couple years before and we traded some pipe repairs for flies over the years. When he heard I had moved to MT. he said he would get in touch when he arrived for the season. Rad was gracious enough to take me out in his driftboat and do most of the rowing. When he learned of my plans to get my boat going he showed mye how to row. A task that is much harder than it seems. There s a lot of skill in keeping the boat within casting distance of the bank and at the proper speed for a good drift. The rower must be on the lookout for rises so his partner can watch his fly in case a fish strikes. Rad and I got to quickly be good friends in our long hours together on the river. He s good easy company, always ready with a pertinent story from his long years on the river to fit almost any occaission.
A little after Rad arrived my brother, Jay, came to town for a week of fishing. Sadly, the conditions that week were tough. The river was in the height of runoff which made wading near impossible but Rad kind of saved the day. He took us out in his boat and guided us all day. Jay really appreciated what he did and felt it not right for him to continue to do for free so also hired him as a guide for a few more days that week.After all, he was on vacation. Jay also introduced me to float tubing. We went to a high mountain lake and floated around suspended in a donut shape tube. There were lots of easy to catch Grayling and Cuthroat trout in this lake and while they were relatively small it was fun motoring around the lake propelled by flippers.
There are some great sections below Craig. A couple miles below the Dearborn River, the Mo. winds thru a fairly long canyon. Thru stark sharp cliffs carved over eons by the river. There s some excellent sections of water thru here, riffly water where many of the mayflies or caddis hatch and then float thru flats where trout are waiting to pick them off as they float by.. As you never know precisely when this will occur you just have to be there......
After exiting the canyon the river which for the most part is like a meandering wide spring creek begins a series of rapids near Hardy Creek. In high water the one under the freeway bridge is something to be reckoned with, It was just below this section where I had one of my most memorable experiences. Floating with Rad Davis and my brother in mid June we went whipping thru this fast water.At one point the water shallowed out somewhat and a prodigious caddis emergence was taking place. The air was filled with large tan caddis comming out of the rapids. Normally, this water is too fast to hold fish but they were in there. Rad instructed us to thow our caddis imitations towards the bank. I reluctantly complied figuring I was wasting my time and a thrilling boat ride. All of a sudden a large rainbow came from nowhere and ate it. I was so shocked I didn t set the hook! Another short cast resulted in another fish doing the same thing and this time I was ready and hooked him. My brother had the same experience on the other side of the boat. NO way Rad could stop the boat so we floated another 1/4 mile with two fish on untill we could get to some calmer water to land them. It was so cool to see fish smashing caddis in this fast water . After we landed the fish I walked back upstream and fished my way down catching fish after fish in that fast water. I ll never forget seeing the first two fish come out from nowhere, and attack my fly like mini sharks...... We floated down to Pelican point along some great flats that had fish rising to Caddis. To Rads delight we experienced many doubles, times when Jay and I both had fish on. It was a great way for Jay to end his trip. Below are some pix that Rad took during our floats: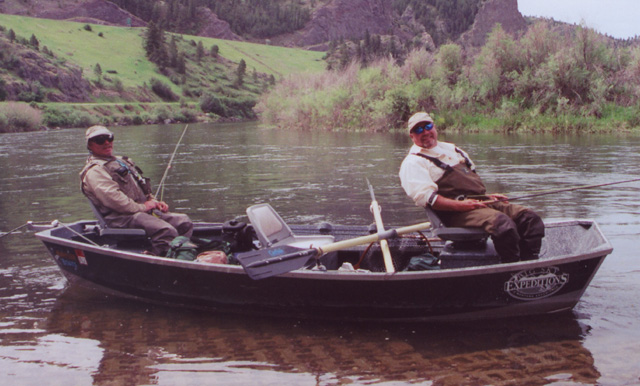 Jay and I in Rad s drift boat taking off from Mtn. Palace boat launch in the Canyon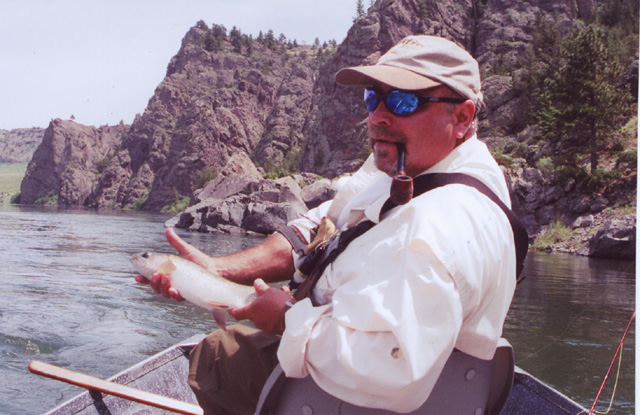 Jay and a "small" rainbow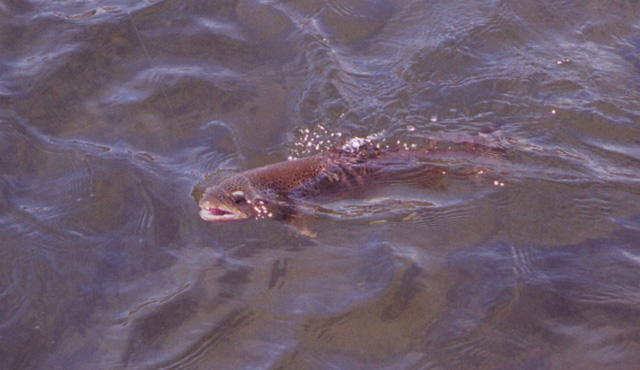 A 21" measured Brown trout, the biggest fish caught on our trips, still in the water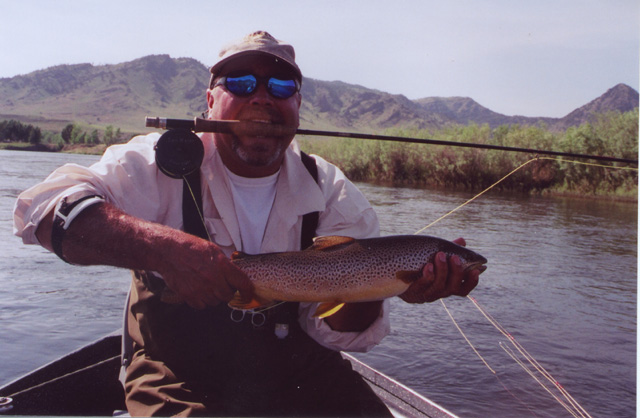 Jay with his prized catch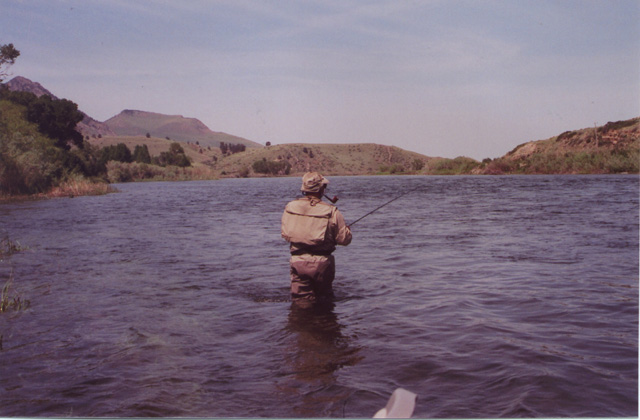 Me fishing near Pelican Pt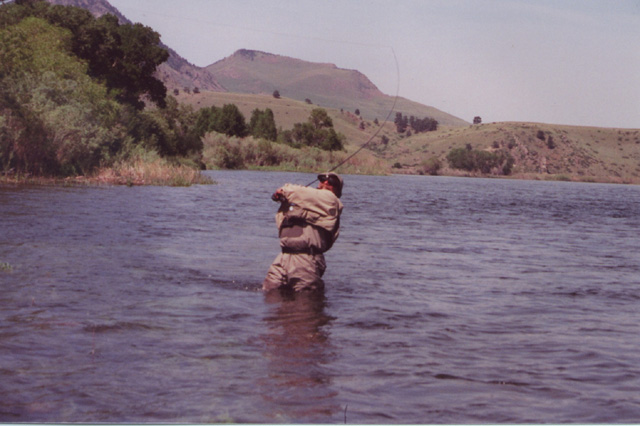 "fish on "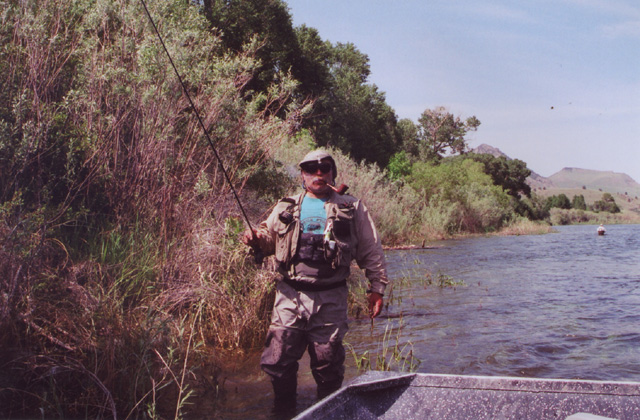 Back to the boat, Jay in foreground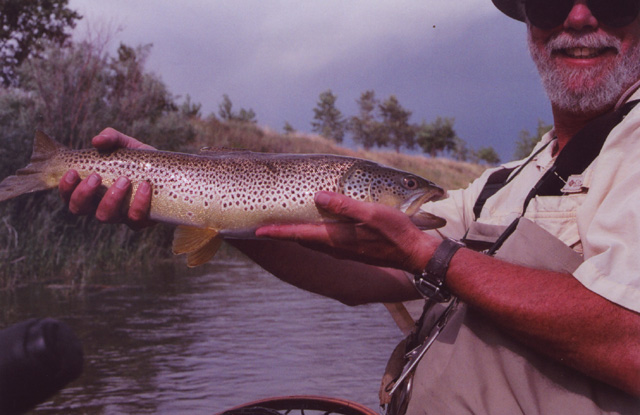 Rad with a nice Brown he caught
After Jay left the season rolled along. Besides caddis, a nice hatch of PMD s ( Pale Morning Dunns) began emerging. The water began to slowly drop and wade fishing became easier. I had been patrolling for weeks one of my favorite sections just below the Dam near Wolfe Creek hoping it would turn on. It was one of those magic days..... The water level was down so nymphing was possible. The fish had finished spawning and had moved back to their traditional haunts. Caddis were coming off all day and fishing a Caddis nymph I destroyed them ! I had on well over 30 large fish that day! Many got off after running off a couple hundred yards of line. These are big strong fish and when they go there s no way to stop them. You just wait as your lines peels off. A large arbor reel while fishing the Mo. is definetly reccomended ! At this point Ib egan fishing just about every day. The fishing was just so fabulous all over the river that I didn t want amd couldn t want to miss any. Days when Rad wasn t guiding we floated in one of our boats. The weather turned very warm and we had day after day of sunny weather I even coaxed my son Glenn into a couple trips: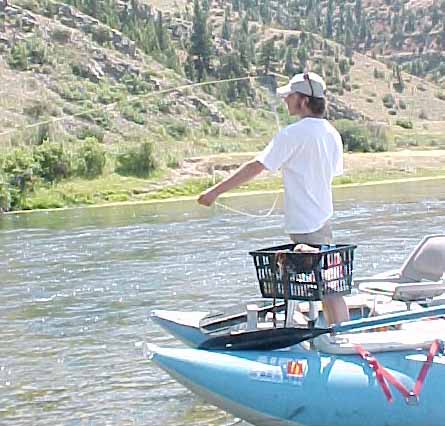 Glenn in my boat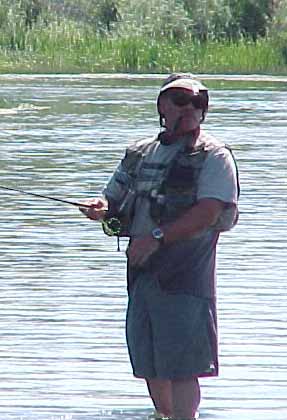 Wet wading on a hot day....
In mid July the weather turned incredibly hot. We had 5 days in a row when the temps were in the low hundreds and that changed the fishing strategy. Fishing in the mid afternoon be came a trying time. No hatches would reliably come off and it was hard just baking in the sun.... I started going up around 7 and fishing till dark when it cooled off and the Caddis swarmed late in the evening. The fish became active again as the sun was going down. Wanting to also fish in the morning I began staying over, sleeping in the car and waking up as it was light. This yielded some great fishing as the fish were taking spinners, mayflies that had mated and died, and were floating still in the back eddies. Caddis or PMD s and later Tricos would hatch in the morning and generally good fishing could be had until 1:30, when it started getting too hot. Hopefully this heat wave will abate sometime this week. My next float is going to be an overnighter, but this time I ll bring some camping gear and land on an island and listen to the river, big trout gulping flies all night long and watch the full canopy of stars overhead.......
A parting shot is from a trip I took sometime in June while visiting fishing buddies Bob Sholiton , Dick Griffith and Hugo Melovin on the Henry s Fork just outside the Park in Idaho. I did a couple side trips to the Madison too which was a lot of fun...The Henry s Fork is a very difficult stream to fish. Fairly shallow near the Harriman Ranch with lot s of micro currents that induce minute amounts of drag and some very very smart fish. These fish get hammered by some of the best fisherman in the world and catching anything there is a cause for celebration.
One night I was fishing off the bank facing across the river, when Bob motioned to me to look back. I thought he saw a fish rising behind me and was alerting me to it. Unbeknownst to me a rather large animal had crept close enough for me to hit with my back cast. If I had hooked him that would have been some story !