ANNOUNCING THE 2001 CHRISTMAS PIPE
DESIGNED AND PRODUCED BY
MARK TINSKY - AMERICAN SMOKING PIPE CO.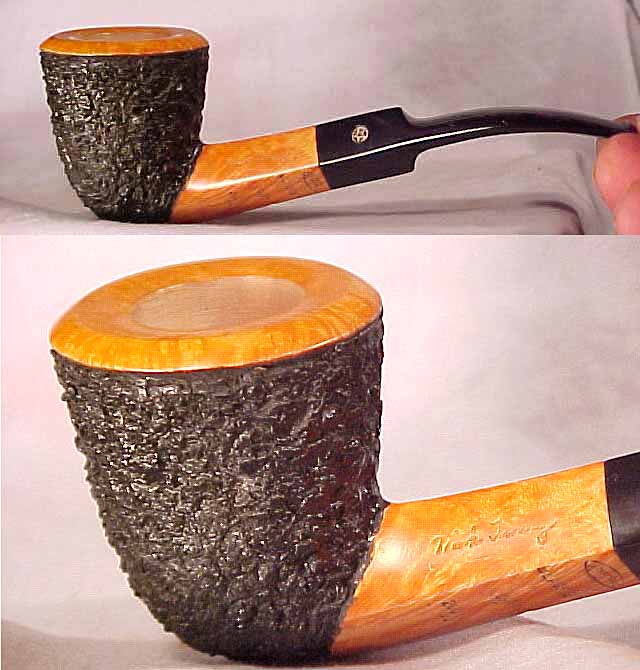 BLACK & TAN
A medium size graceful Dublin, (SIZE 5 ) with a diamond shank; very comfortable to hold or smoke! The pipe is just over 2" tall and is 1.75" in diameter . The inner bowl diameter is a bit over .75" and has a slight taper. The pipe is 5 3/4 " long. and weighs 1.5 ounces. A classic shape for this years Christmas pipe. This year it is available in many finishes (see below) and 4 grades of straight grain.
To Purchase:
VIA THE WEB: WWW.AMSMOKE.COM
E MAIL : MT@EPIX.NET
WRITE: AMSP CO/ HC 88 BOX 223/ POCONO LAKE, PA. 18347
FINISHES:
NATURAL*
PRISITNE* MOCHA* $195 CORAL
SUNRISE* $230 CABERNET* $195 NATURAL $145 DARK $130
WALNUT $170 BLACK & TAN $165
SANDBLAST:
TANBLAST* $160
DARK * $145
STRAIGHT GRAIN available in * finishes. In blast either one or two stars; add $35 for each star. In smooth finishes1-4 stars add $60 for each.