STAGES OF CARVING THE I996 CHRISTMAS PIPE
---
THE FIRST AND MOST CRITICAL DECISION IS THE SELECTION OF THE BLOCK. DIFFERENT SHAPES TEND TO FAVOR CERTAIN TYPES OF BLOCKS. THE 96 CHRISTMAS PIPE NEEDS A WIDE BLOCK WITH A FAIRLY STRAIGHT TOP AS OPPOSED TO A BLOCK THAT HAS A FAN SHAPED GRAIN CONFIGURATION.AS GRAIN WILL BE LOST AT THE TOP AND BOTTOM OF THE PIPE.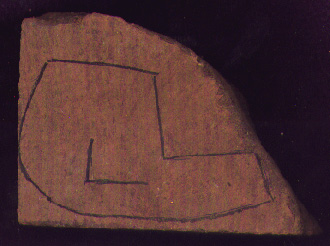 HERE A SKETCH OF THE PIPE IS DRAWN UNTO THE BLOCK FROM A TEMPLATE I DREW UP.
THE NEXT STEP IS TO CUT THE PIPE OUT OF THE BLOCK.
AT THIS POINT I MOVE OVER TO THE LATHE AND TURN THE TOP. FIRST I MAKE A CYLINDER.
American Smoking Pipe Co
HC 88 Box 223
Pocono Lake, PA 18347
mt@epix.net